Version française | Last update : 2016/12/26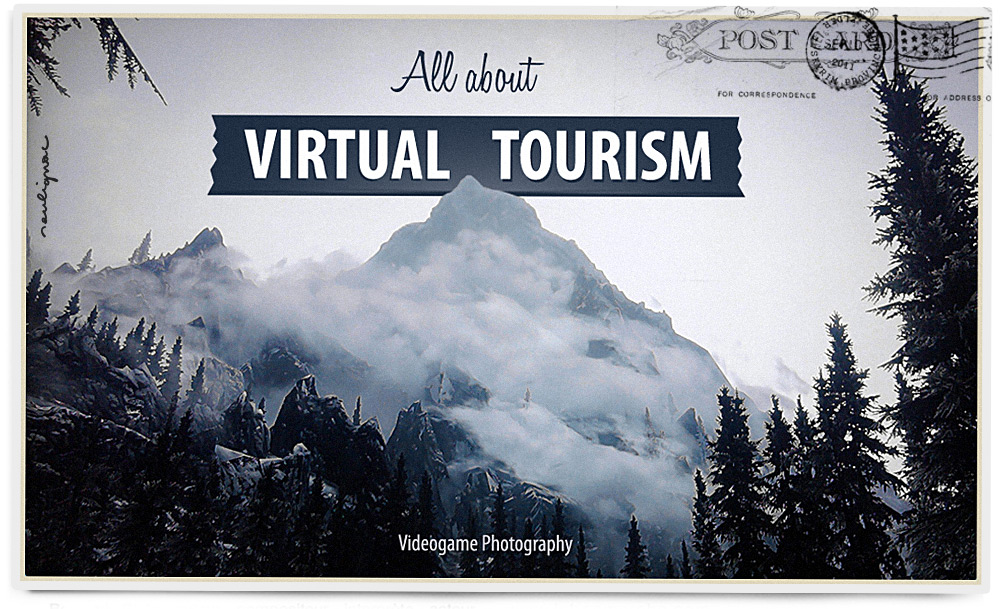 "Virtual Tourism" is a series of photographs based on the contemplative practice of gaming. With a camera at my disposal I simply walk into the decor of video games which offer open worlds, I explicitly do this without paying attention to the context (off mission). I wander around these wide digital open spaces, solely to appreciate the work produced by graphic designers and developers. I then start searching for the best spot where I can take a picture with the most suitable view, location, frame and ideal moment. These pictures, which are exclusively focused on landscapes, are a way to keep memory of virtual excursions. They also often reveal empty or "abandoned" areas of the gameplay, places which are usually ignored or neglected by active gamers.
Shooting Method
These images in-game are not "screen shots", they are photos taken with an actual digital camera. The aim is to produce the final piece while taking the picture. The initial photos are originally taken in high definition, and are eventually reduced to a smaller size before being posted online. The pictures online are either left in their original state or moderately altered: a little cropping and editing (brightness, saturation of colors). This method has two advantages: when in front of the screen, the moment the picture is taken, the camera reinterprets the pixels. This creates a "smoothing" effect on the surface which eradicates the sometimes too brutal aspect of some decors due to the work of current 3D engines. Finally, when the images are cropped, the visibility of polygons is naturally reduced. The finishing result allows to acquire a "new" image, one which is embellished and beautified yet, one which none the less remains loyal to the original game.
"Environment is important, games are very geographical – they present space almost better than they present time, and we try to use that, to showcase variety between different landscapes. It's this idea of a digital holiday: being able to explore spaces that don't really exist is one of the things that's fascinating about open world games. It's not just about doing the activities we've set, there's also a sense of being there." Dan Houser, Rockstar Games (source)


1998 – 2014 | Virtual Tourism Timeline
1998 : Half-Life. First shock. I discovered a new video-game style, inspired by an immersive scenario and HD 3D graphics. The willingness of take a screenshots was immediate. I took a little bit of everything : place, objects, interactions, scripted sequences. A basic shooting method, a brutal rendering, but the big picture of Virtual Tourism was born : I found a simple method to keep memory of my virtual experiences.
2001/2004 : Max Payne. A game full of pyrotechnics details, using the entire potential of ragdoll physic system. I took action scene, before and after the gunfights; with my camcorder I captured lights rendering, objects, etc.

2008 : Fallout 3. Second shock. My first experience in an open world RPG. First real contemplative gaming experience. Wide landscapes, variable atmospheric effects. A so beautiful universe – perfect mix between art and technology, I had to take the landscapes in pictures, but it was impossible to take a screenshot here (on Xbox 360), so I took pictures with an actual digital camera. The shooting method was transforming the picture surface, with a peculiar and paradoxical effect : the game looked more realistic, the trip memory much more "real".

2010 : Just Cause 2. The bigger map never created for 3D off-line open-world game; huge level design (exploration-oriented) on horizontal and vertical plan; jubilant physical engine sandbox like, virtuoso geographic and atmospheric effects. To sum up : the dream game to practice videogame photography landscape-oriented.
2011 : The power of art critic. In 2011 September, I discovered a press article from the french journalist Erwan Cario, about Iain Andrews's work. Before that, the concept of videogame photography was not clear in my mind, and publishing my own videogame picture it was not a goal. I just shot pictures, saved its somewhere on my hard disk, like another archives, that was enough. In my deep feeling, it was a little bit "bizarre" occupation, may too geeky. Anyway, an art critic had been changing my vision, outside the box, simplified. I had already lot of pictures produced during my real travel : about architecture, design, location scouting… from now, naturally, I could publish pictures from my virtual travel.
2011: Skyrim: My first published album was the virtual tour in the amazing Skyrim, certainly the bigger offline open-world game and the most huge interactive scenario I had ever seen.
2016: Videos Virtual Tourism

Since 2016, I am making videos inspired by the Virtual Tourism project. Contemplative and focused on the landscapes and special effects, the first video is an introduction to the explosions effects in Just Cause 3. Watch the video.
About the process
Virtual tour. My willingness is not to be friendly with tourists, neither to have a journalistic point of view. My work is just a slide of digital art, an "artialisant" behavior. In my virtual experiences, I keep my real photographic habits. I live my trip, never obsessed by my camera. Sometimes, I finish a game with none shot in my camera. E.g : I haven't any pictures from Rockstar Games' masterpieces (GTA 4, Red Dead Redemption), because I was completly involved by the huge univers and game mechanics. So my goal is not to build an useful guide, with logical map, good plan and reviews. If you are interested by this way to play – and to write – you must read Olivier Seguret's articles, about Tourisme virtuel (in french).
Tourism without turista. Virtual Tourism photographs series is inspired by my way of gaming. I'm not a gamer focused by high scoring, I look at video games like a complex cultural products, rather than a simply advertisements. Of course I like play the game, but it's more exciting to play on the side way, outside the official scenario. I like loosing myself on the map, testing software limits, reaching places which are difficult to access, being surprised by random events, dreaming, making up my own fictional story, finding tips of level design… In short, I'm tourist like, without any schedules plan. As soon I'm in game, I'm loosing myself in deep exploration, creative gaming, with no limits – or almost – armed with my fantasy and my camera only.
Search engine optimization. The titles of Virtual Tourism posts have names of places (name of virtual places in the game) not the official name of game. This specific terminology created funny results on Google Search : indeed, Google algorithms make no difference between "real" or "fake" places, therefore my pictures are side by side with real screenshot of virtual tour software. May much interesting, when Journey photographs seems to coexist with unknown deserts pictures.
Today, as an aesthete-gamer, passionate by game design, I'm exclusively focused on openworld-sandbox games. Firstly because they are the cutting edge of technologic innovation in game industry, secondly because they are very adapted for exploration : time and space are open, the ideal condition for videogame photographers.



See all Virtual Tourism
Virtual Tourism on Press