Work in progress | Last update : 2014/07/26.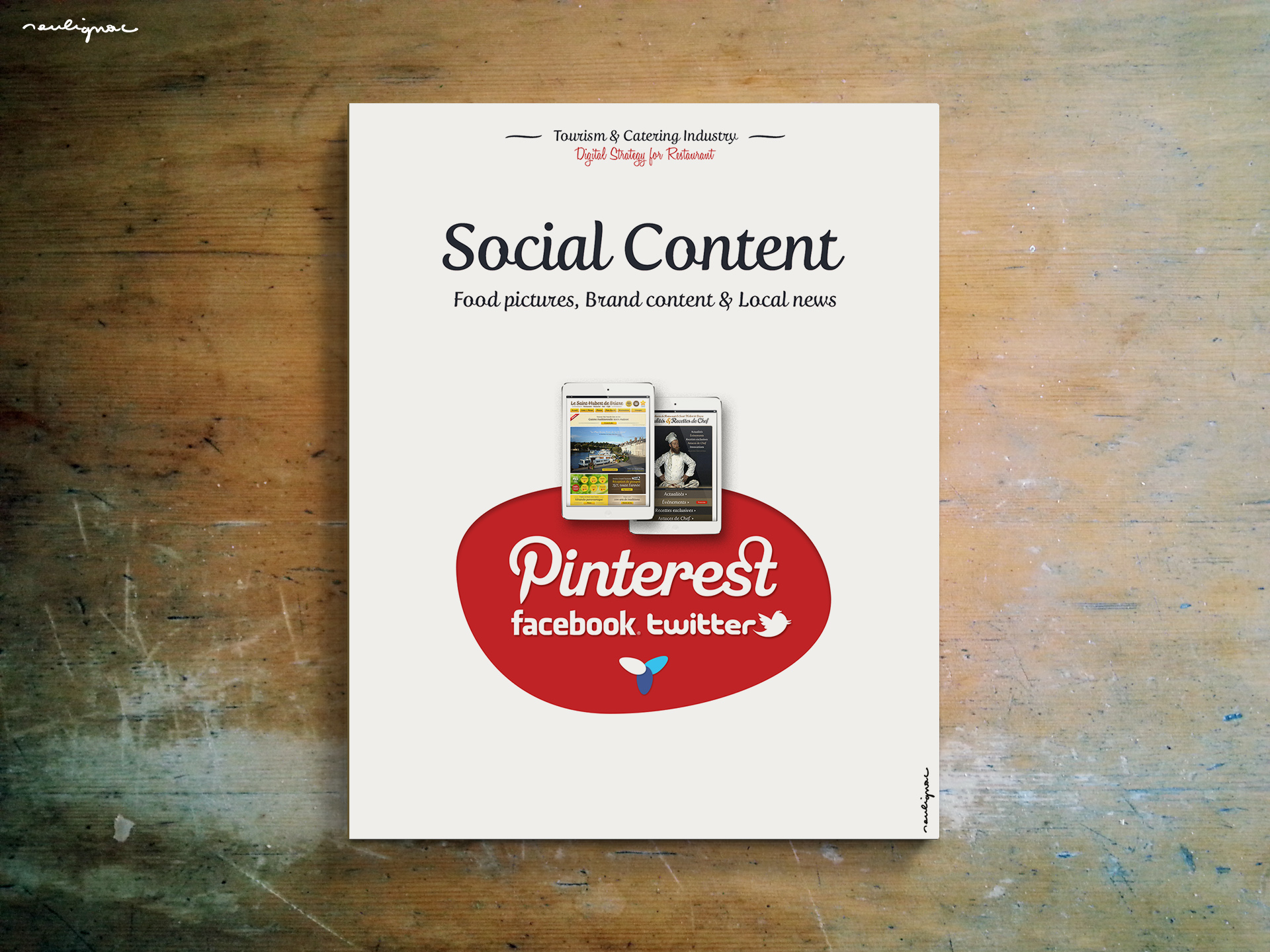 An efficient strategy of social networks communication for restaurant is an opportunity to keep in touch with local communities, support the SEO, reach new audiences and recruit new talents. Regularly updated, posts could develop the corporate image.


Description & Positioning
The Facebook & Twitter pages dedicated to the restaurant Le Saint-Hubert is launched in 2013. The goal was to keep in touch with clients, support the organic SEO, reach new audiences and recruit new talents. The Pinterest page, launched in 2014, is related to food photography. Targets : local communities (in town and on the region), former clients, foodistas and all people interested by catering & tourism industry.
Facebook/Twitter : News, Brand content & Job offers
All posts are focused on company activities (catering & tourism industry) or related to positive news : local and regional news, town's history, french gastronomy (featuring some homemade recipes by the Chef), innovations in the restaurant, job offers, dishes of the day. To catch new audiences and to be relevant with the uses of social media, some news are funny (e.g : "lol cat pict" featuring mascots of the company), unusual ("get a plane and join us"), or related to relevant topic (the new homemade label).
Pinterest : Food photography
The Pinterest page is dedicated to food pictures. The core goal of this new brand content is to reach new audiences (food pictures lovers, Foodistas) and to increase the web traffic on the showcase. A selection of pictures is relayed on the showcase (Food photography). This new brand content design – fully relevant with the company activity – is a great opportunity to extend the brand identity through a new universe of graphic design.
> See the food pictures report.
Regional advertising for free
The regional newspaper named "La République du Centre" (circulation in 2012 : 11,720,337) retweeted a Brand content from Le Saint-Hubert. A great signal from a traditional media, a great achievement and a quality evidence of the brand content.
My intervention | Skills developed
Digital Strategy : Brand integration on social networking services. Copyrighting & Community Management : All posts on social networks (permanently updated). HR Com : Job offers on Facebook. Art direction, Graphic design & Food Photography : All posts & pictures dedicated to social platforms.
> Visit the Facebook Page
> Visit the Twitter Page
> Visit the Pinterest Page
–
> See the Case Study
> See the Showcase Report
> See the Brand Content & Native Ads report (Blog)
> See the Brand content report (Food pictures)
> See the Brand identity report (Sound design)
> See the Achievements & Results


© François Soulignac / Le Saint-Hubert – Social Networking | Strategy, Copyrighting, Community Management, Graphic design & Food photography : François Soulignac, 2013-2014.