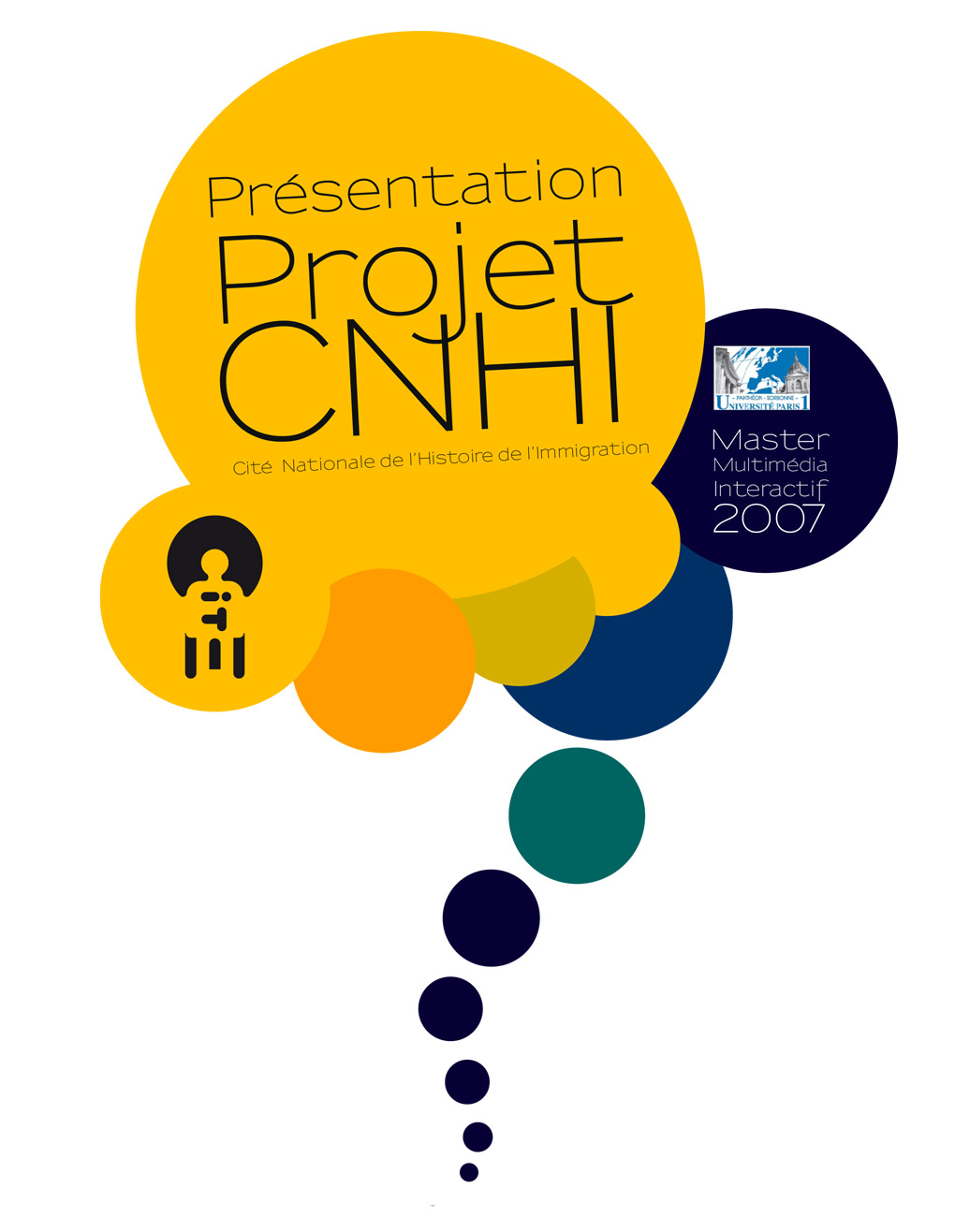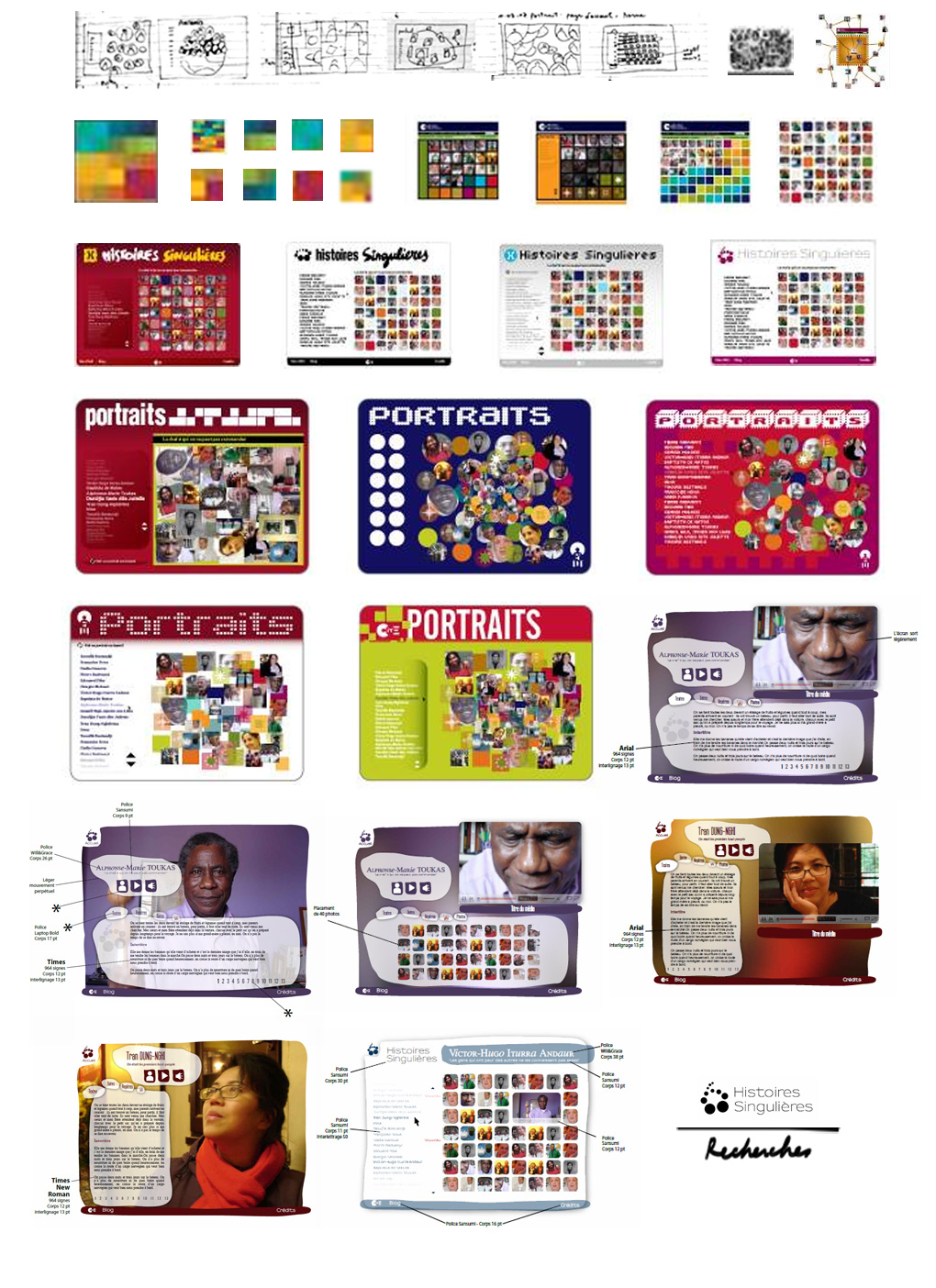 Description
Objectif : « créer du lien »
Un espace de libre expression, lieu d'échange entre internautes et la Cité. Une plate-forme multimédia qui permet aux internautes de déposer leurs témoignages sur l'immigration; poster la photo d'un objet témoin de leur histoire; déposer un commentaire sur le projet de la Cité. Elle présente aussi les témoignages du studio permanent et les photographies des objets de la galerie des dons. Mots clés : Participatif, subjectif, chaleureux Mission : Créer un espace de recueil de témoignages, faire le lien avec la charte institutionnelle de la Cité. Réponse graphique : Combinaison des différents contenus existants en gardant une cohérence symbolique et esthétique.
Concept
Écoute sensible
Notre interface est un espace destiné à recueillir des témoignages émouvants, sincères, heureux et parfois douloureux. Plus largement, il s'agit d'un environnement d'écoute en adéquation avec l'expression de l'être dans sa relation à l'autre. Cet espace débute donc par la mise en forme d'une constellation de portraits, composées de tons multiples. Des parcours de vie dont la parole n'a pas toujours été écoutée. L'écoute se concrétise grâce au respect et à la reconnaissance de l'autre. Quand celle-ci se développe, elle offre une immersion dans le ressenti et la re-création.
Histoires uniques
Chaque parcours devient alors unique, ne se réduisant plus seulement à une histoire de flux migratoires, mais se transformant en conte moderne et réaliste. L'interface «habille» les traces d'une expression essentielle: la parole. Le texte se lit sur un voile de transparence. L'écoute sensible suppose ainsi l'acceptation du paradoxe de l'écoute active : comprendre l'autre c'est avant tout un travail sur soi-même.
Design discret
Pour faciliter et accompagner cette écoute, le design graphique de l'interface est emprunt de discrétion. C'est un graphisme silencieux qui laisse sa place au contenu, permettant à l'utilisateur de faire résonner son propre ressenti intérieur. Mettre en forme le concept de l'écoute sensible, c'est d'abord chercher à réguler les influences de l'interface sur la perception de l'utilisateur.
> Lire le plan de charte graphique
Galerie photos
© Palais de la Porte Dorée | Musée national de l'Histoire de l'immigration – Charte digitale "Histoires Singulières" et "Cité Blog" (extraits). Conception, rédaction et direction artistique : François Soulignac, 2007. Musée de l'histoire de l'immigration – UI Design guidelines 'Histoires Singulières' and 'Cité Blog' (extracts). Design and art Direction : François Soulignac, 2007. "CNHI" logotype & Institutional guidelines : © Pete Jeffs et Yann Legendre. Sounds, Text and Photographs : © L'atelier du Bruit.