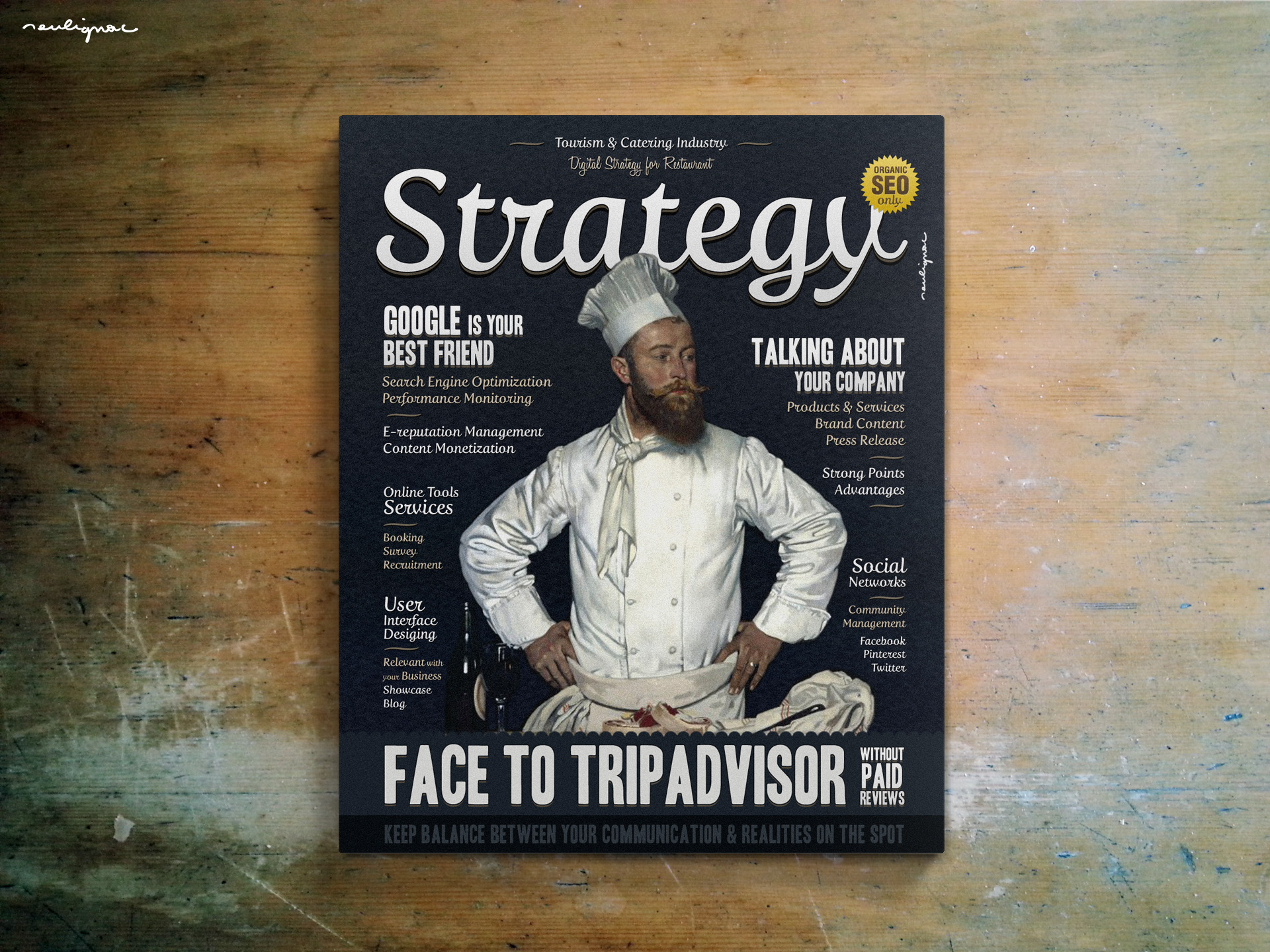 Digital strategy for restaurant dedicated to Le Saint-Hubert, a French family restaurant located in Briare-le-Canal, a great tourist attraction in the Loire Valley. It sells soft drinks, alcohols, local wines, snacks, cheeses, local food and dishes from French bistro tradition. The venue is charming and singular : in a typical French village, on a neighborhood protected by Historic Monuments of France, with a 180 degrees panoramic view on the wild and on a marina. A perfect place for families, seniors, lovers and tourists.
Context | Facts & Figures
Partner : Restaurant Le Saint-Hubert (Loire Valley, France)
Project : Digital strategy for restaurant
Type of services : Solutions for local company (BtoC, BtoB & HR com)
Type of products : Showcase, Blog, Social content, Flow & Stock content, Native ads
Target : Clients, Groups, Tourists, Travel agencies, Followers
Type of strategy : Non-price competition (Quality, Innovation & Design improvement)
> See the Achievements & Results
> See the Showcase report (Website)
> See the Social content report
> See the Brand content & Native Ads report (Blog)
> See the Brand content report (Food pictures)
> See the Brand identity report (Sound design)


Le Saint-Hubert : company description
Le Saint-Hubert is a family business, a local company (SME) founded by my parents, including two historical executive associates in charge of financial topics and works on the spot. Recently, to manage new challenges, two new associates joined the team : an associate in charge of financial accounting, and me, associate in charge of digital communication. In response to the crisis and the decline in purchasing power in France and in the UE, the company set up a cheaper pricing policy and promote the "homemade" & "handmade" quality of his products.
Partner's needs
The company needed an all-included digital strategy for restaurant to stay on track with new habits of users and catch new clients. In addition, an important e-reputation crisis touched "Le Saint-Hubert" in 2012. So, the core mission was to clarify the hierarchy of company's products and services, increase their digital visibility, improve the e-reputation, and set up tools to stay on track with new uses on the web. This is a work in progress, more informations will be regularly updated on this page.
Digital strategy for restaurant : the big picture
How communicate on digital medium for a local company, with honesty, pedagogy and effectiveness ? How seduce families, seniors, tourists and travel agencies in the same time ? How improve a digital visibility without paid Ads ? How face to the web positioning of Tripadvisor SEO with a low budget ?
To reach these achievements, I have chosen to set up a Non-price competition strategy (Quality, Innovation & Design improvement), thanks to dedicated tools, tips and custom solutions : build up a strong web positioning (local, national and international dissemination, with organic SEO only). Communicate on three differents medium (showcase, blog & social platform) to introduce three levels of communication (BtoC, BtoB & HR com). Develop useful and ergonomic tools for customers and job applicants (online booking, survey & recruitment).
The main challenge was to keep balance between communication and realities on the spot : communicate about strong points and advantages of the company with no disappointment for customers. My willingness was to carrying out a strong, positive, but fair campaign of communication.
Provided services
Digital strategy for restaurant : Goals, Digital market positioning, Architecture Information, E-reputation management. Search Engine Marketing : Google solutions (Adsense, Analytics). Copy-writing (in French & English) : Brand Content, Values & Commitments (4095 words), Crisis report & Press release (6575 words). Creative : Brand identity definition, Graphic design, Sound design, Photography, User Interface designing. Development : Homemade HTML & CSS (Showcase). Adaptation of WordPress solutions, PHP, HTML5, CSS3, Javascript, jQuery (Blog). Social : Brand integration on Facebook, Twitter and Pinterest.
My intervention | Skills developed
Digital Strategy for restaurant
Search Engine Optimization and Web positioning (SEO). E-reputation management. On-line tools development for booking, recruitment and surveys. Performance monitoring via Google Analytics. Brand integration on social platforms. Launch of new products (menus, special offers). Content monetization via Google AdSense. Reputation management & Crisis communication procedure. Research & Development related to Customer Services, Customer Reviews, Catering & Tourism industry.
Brand Content & Community Management
Writing content for all medium : Showcase (21 pages) including Products, Services & Thematic pages, Commitments & Values (4095 words), Crisis report & Press release (6575 words). Blog & Brand content, including 5 categories, 22 posts and 7 pages. All posts on social content.
Art direction, Webdesign & User Interface
All pages and visuals in showcase; all pages and visuals on the blog; all visuals dedicated to Food pictures and social Content (Facebook, Twitter & Pinterest). In addition, an original mixtape was produced to introduce the brand's DNA in the restaurant.
Front-End Web Development
Homemade HTML & CSS with optimized pages for mobile devices for all pages on the showcase. Responsive webdesign (HTML5, PHP, Fluid Grids & CSS3 media queries) adapted from WordPress solutions for all pages on the blog.
Digital ecosystem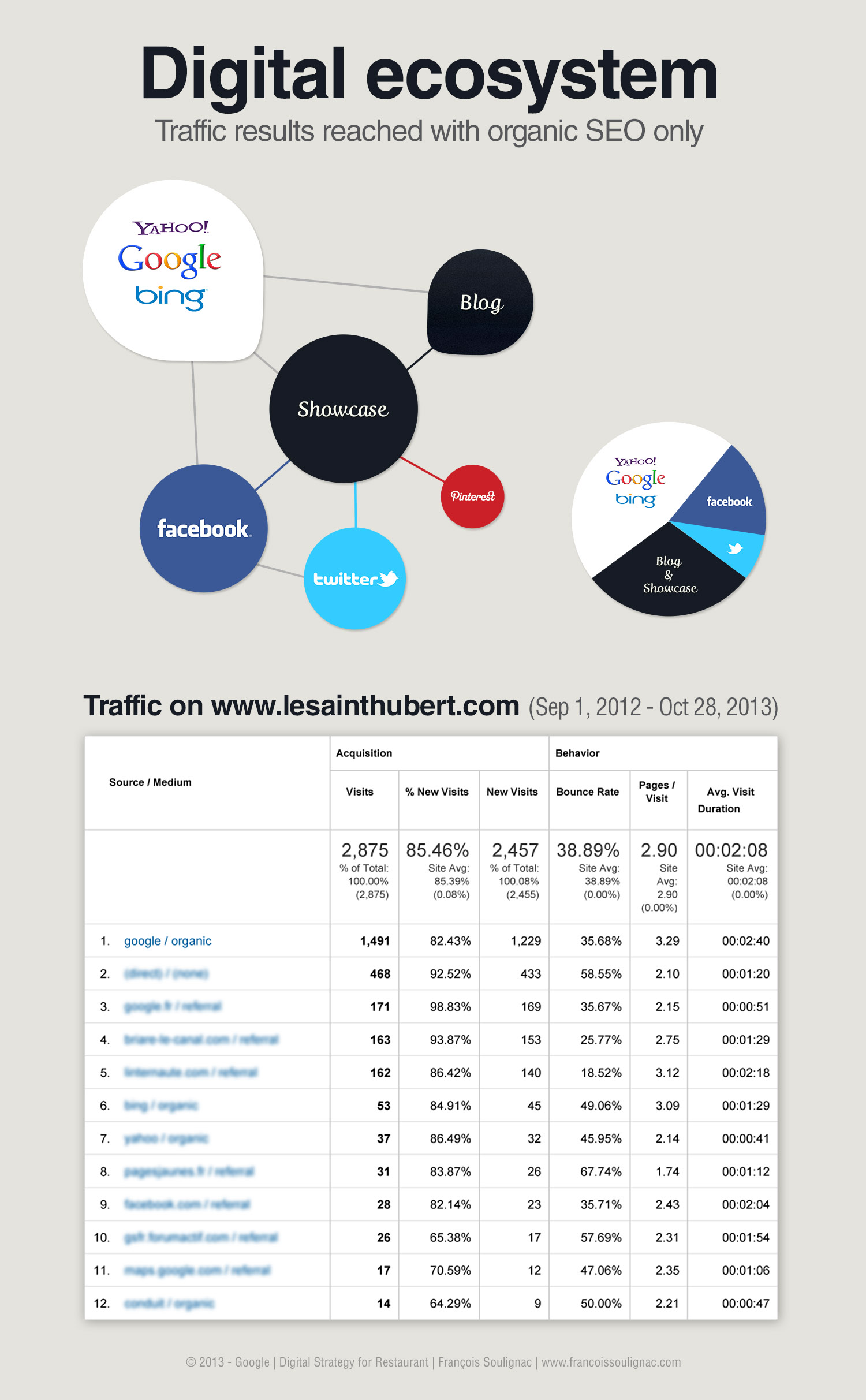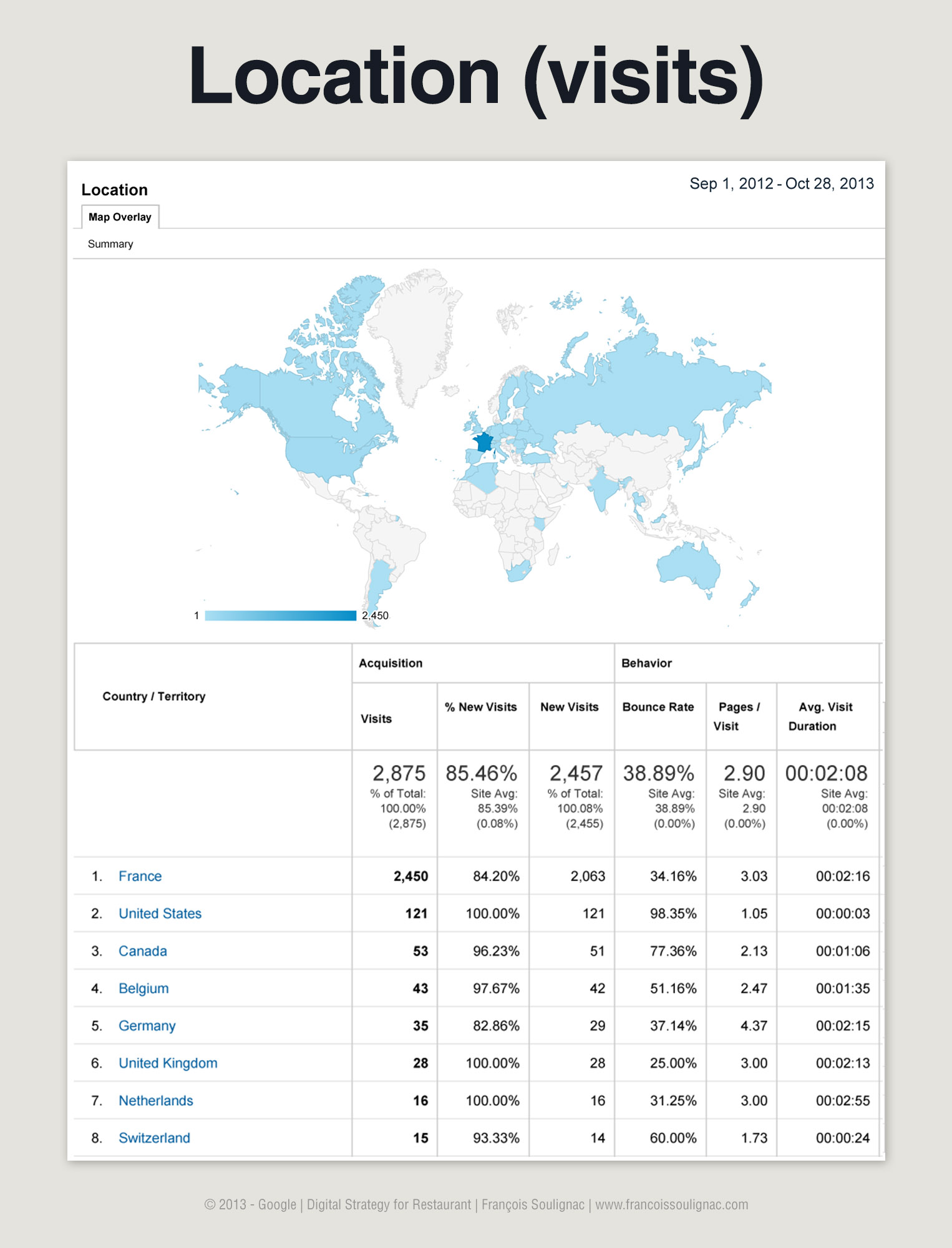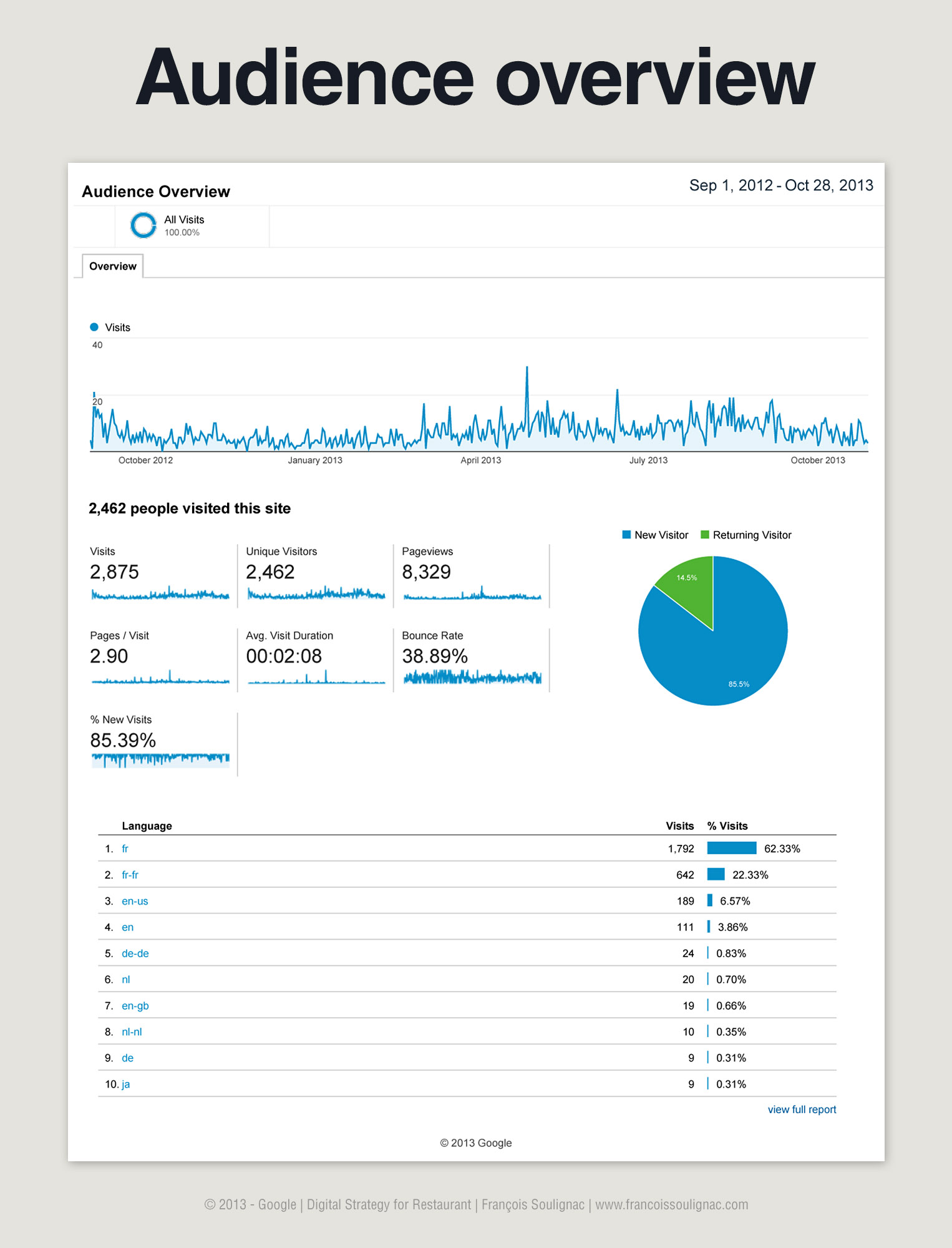 Greatest achievements & Results
August 2012 : Needs analysis
September 2012 : Strategic response (Non-price competition)
November 2012 : Organic SEO in French
January 2013 : New Chef & New homemade menu
February 2013 : Organic SEO in English
April 2013 : Brand content definition in French
June 2013 : Side by side with Tripadvisor
September 2013 : Optimization for mobile devices
October 2013 : Regional advertising for free
December 2013 : Results of online booking (+7,6% in 2013)
January 2014 : Results of sale revenues (+5% in 2013)
Achievements & Results in 2013 : A delicate balance to consolidate
February 2014 : Food photography on Pinterest
March & April 2014 : Human resources communication on Facebook
May & June 2014 : Offensive strategy for the "Lunch menu" & "Dish of day"
June 2014 : A massive digital visibility (local, regional and national dissemination)
July 2014 : Brand content for the new French label "Homemade"
January 2020 : Blog – Stock content creation to relaunch the organic SEO
January 2020 : Showcase – UI Design optimization to make the website more mobile friendly
January 2020 : Showcase – Updating allergens information to cope with French policies
April – May 2020 | COVID-19 crisis: Adaptation of the existing booking system for take away service
> See all the Achievements & Results Timeline
Facts & Figures
All Work Reports
© 2012-2020 | François Soulignac – Le Saint-Hubert. Digital Strategy for Restaurant. Strategy, Art Direction, Graphic Design, UI Design, Social Content Creation, Front-End Web Development & Photography.