Work in progress | Last update : 2014/04/20.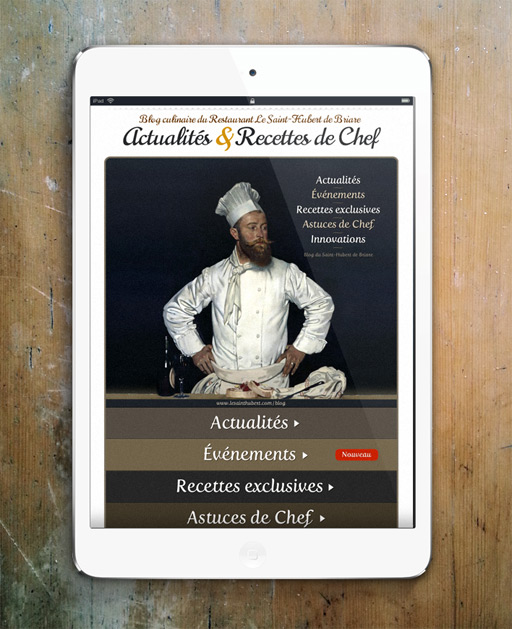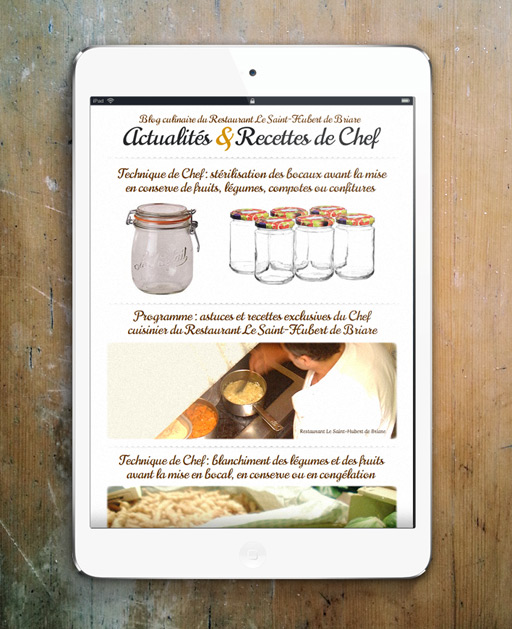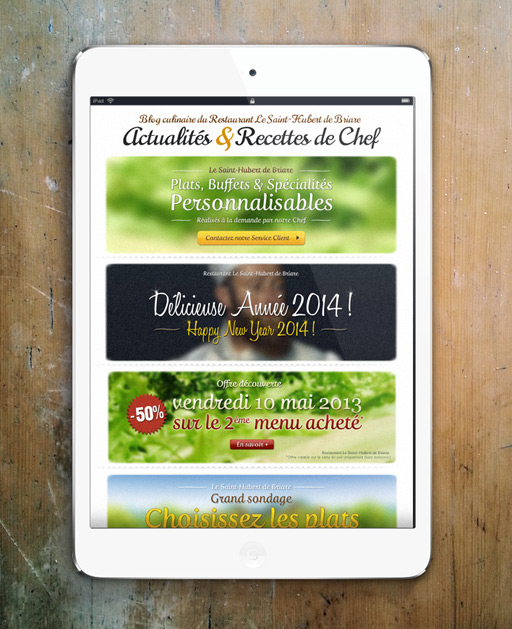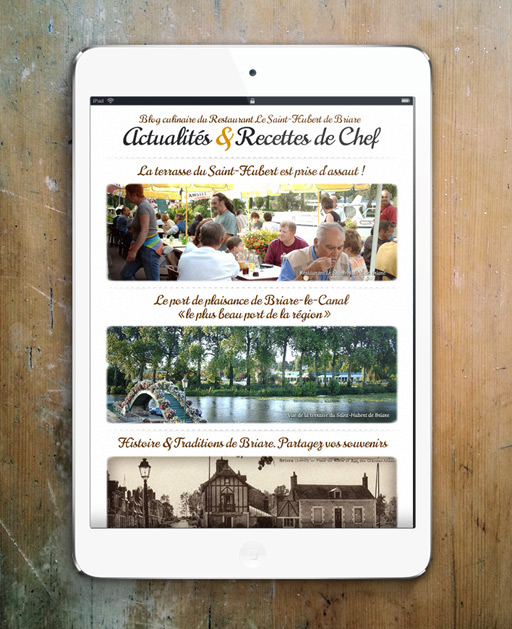 This blog named "Actualités & Recettes Exclusives" ("News & Exclusive Recipes") is dedicated to the french restaurant "Le Saint-Hubert". It was launched in april 2013 to communicate local and regional news, recipes from the Chef, innovations in the restaurant, events, dishes of the day. It's the main platform for brand content and native ads.

Description & Positioning
All the content is related to company activities (Catering & Tourism industry) : News & Innovations in the restaurant, Special Offers, Dishes of the day, Tips for french food, Homemade recipes by the Chef, Local & Regional news. It targets former clients & prospects (BtoC), professional colleagues (BtoB) and Job applicants (HR com).
News, Brand Content & Native Ads
The content is a selection of positive news and useful information : Local news, Town's history, French gastronomy (featuring "homemade" and "handmade" processes by the Chef), Innovations, Job offers. To catch new audiences, and to be relevant with typical uses of social medias, some news are related to funny or unusual topics (e.g : lol cat post talking about "mascots" of the company).
A gap in the market | Results
Le Saint-Hubert is the first restaurant on the region with his own platform dedicated to brand content and native ads. This is a great opportunity to build a new corporate image on the web. With this initiative, the restaurant hope to reach new audiences and catch new clients. Resulting to this strategy and thanks to the hard work of executive associate on the spot, sales revenues of the company are increased of 5% in 2013. More details about Achievements & Results.


About the content
Content indexing (short version). This page depicting the Chef of the Chatham Hotel, painted by William Orpen in 1921 (Le Chef de l'Hôtel Chatham, Paris, 1921). The goal : introduce the new corporate image ("homemade & handmade cuisine") with a classical representation, an iconic symbol of french gastronomy.
Content indexing (long version). This page introduces the blog in details : blog's history, goals, content description.
All news related to the restaurant (special offers, new prices, menus updating, special events, promotions,