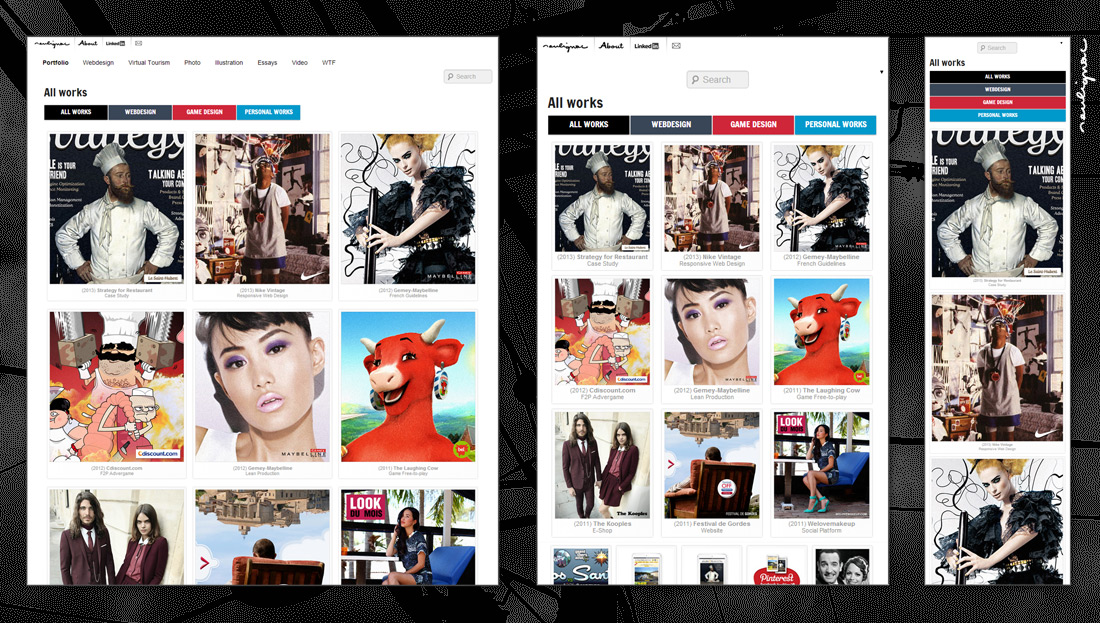 This portfolio introduces my professional and personal works. The User Interface is very light, content-oriented, adapted for web and mobiles devices. It uses best practices in Search Engine Optimization (SEO) and Google AdSense strategy.
Details
Project : RWD Portfolio
Type of product : Works presentation.
Medium : Adapted for websites, mobiles, tablets and connected tv.
Target : Clients & Followers
Strong points & Advantages
I chosen the Responsive Web Design (RWD) solution to manage new & futures habits of Internet users. A content displayable on all devices, in one domain only.
My intervention / Skills developed
Content Designing, Art direction and User Interface designing. Fluid Grids & CSS3 media queries adaptation from WordPress community and Catch Box theme. Search Engine Optimization and Web positioning (SEO). Content monetization via Google AdSense. Performance monitoring via Google Analytics.
–
© François Soulignac – Porfolio in Responsive Web Design (RWD). Development by the WordPress community. Design, Content, Art Direction and CSS adaptation : François Soulignac, 2013.