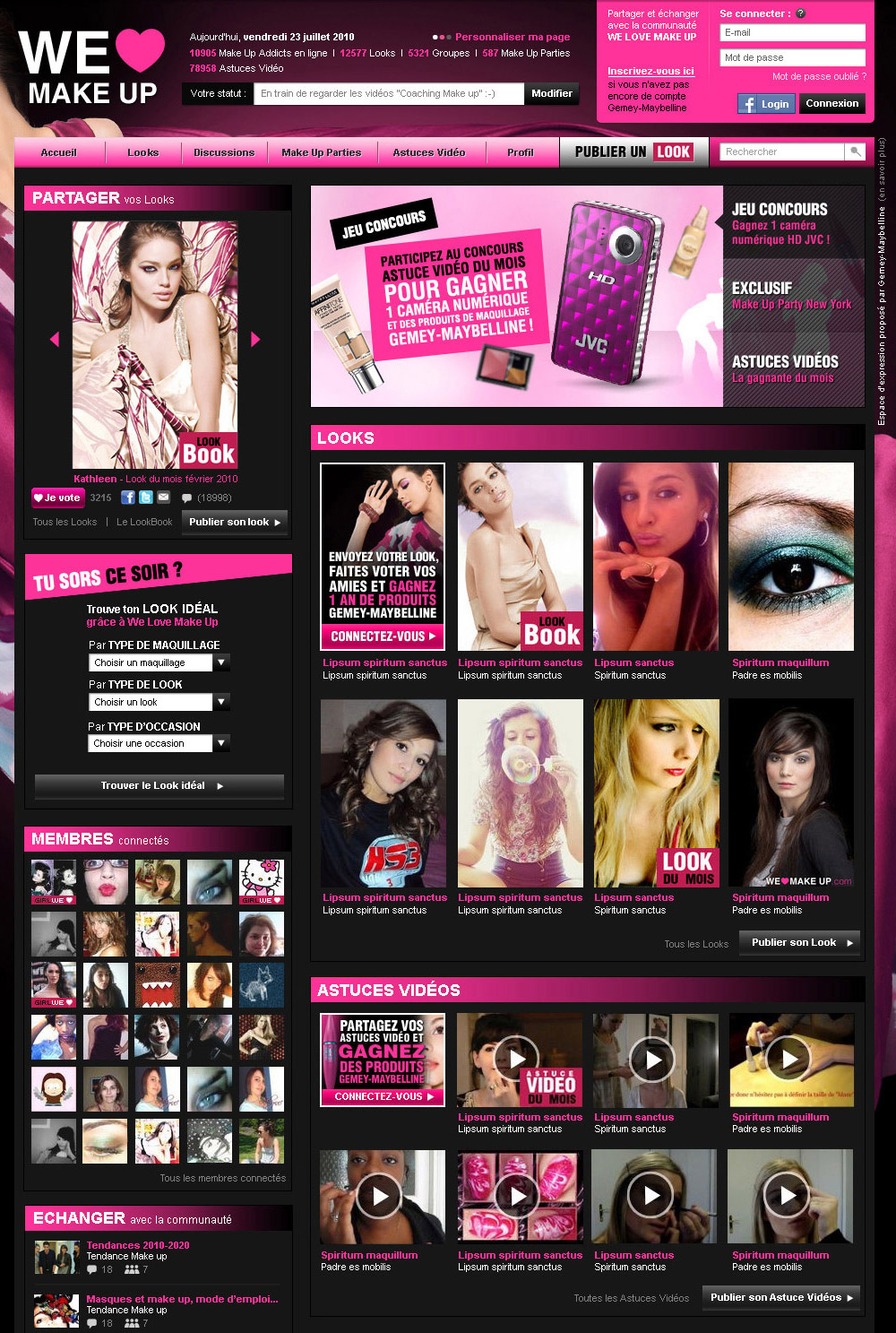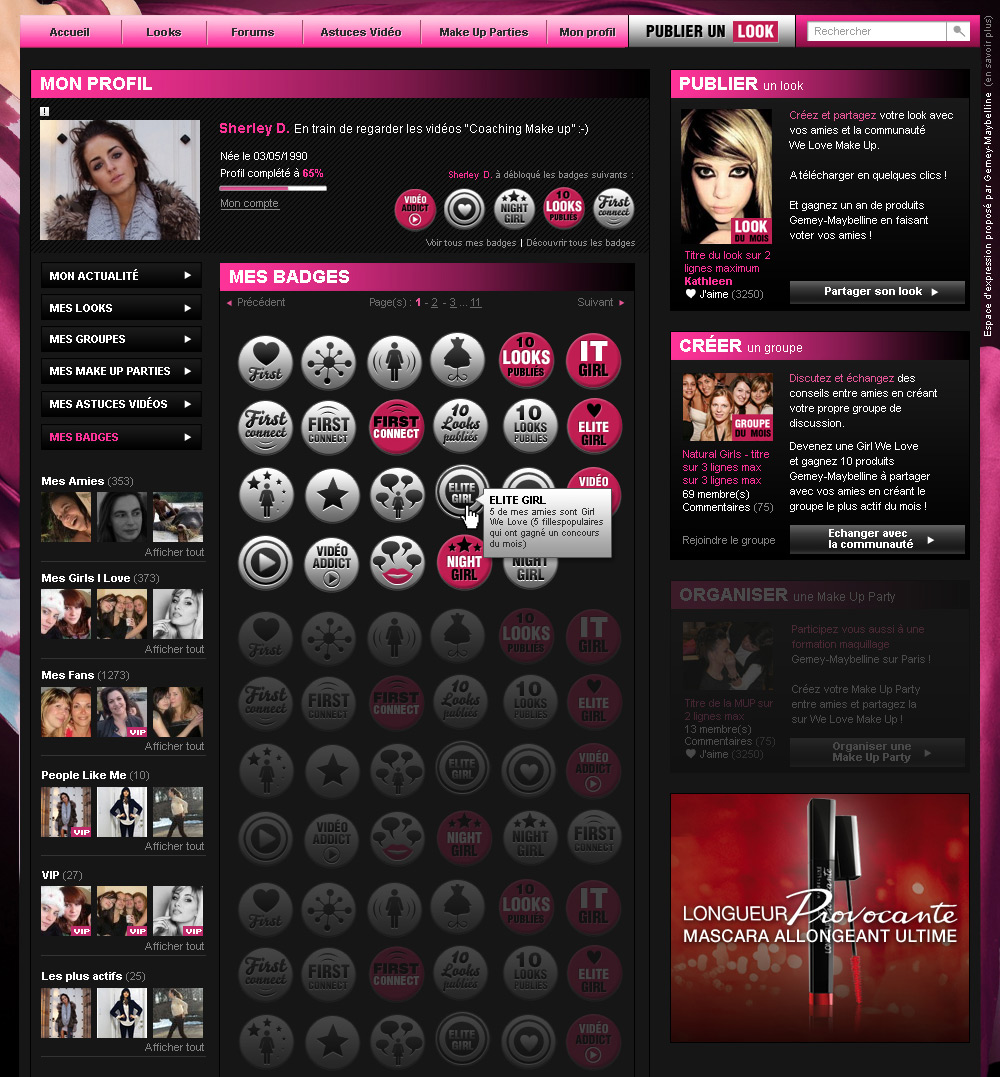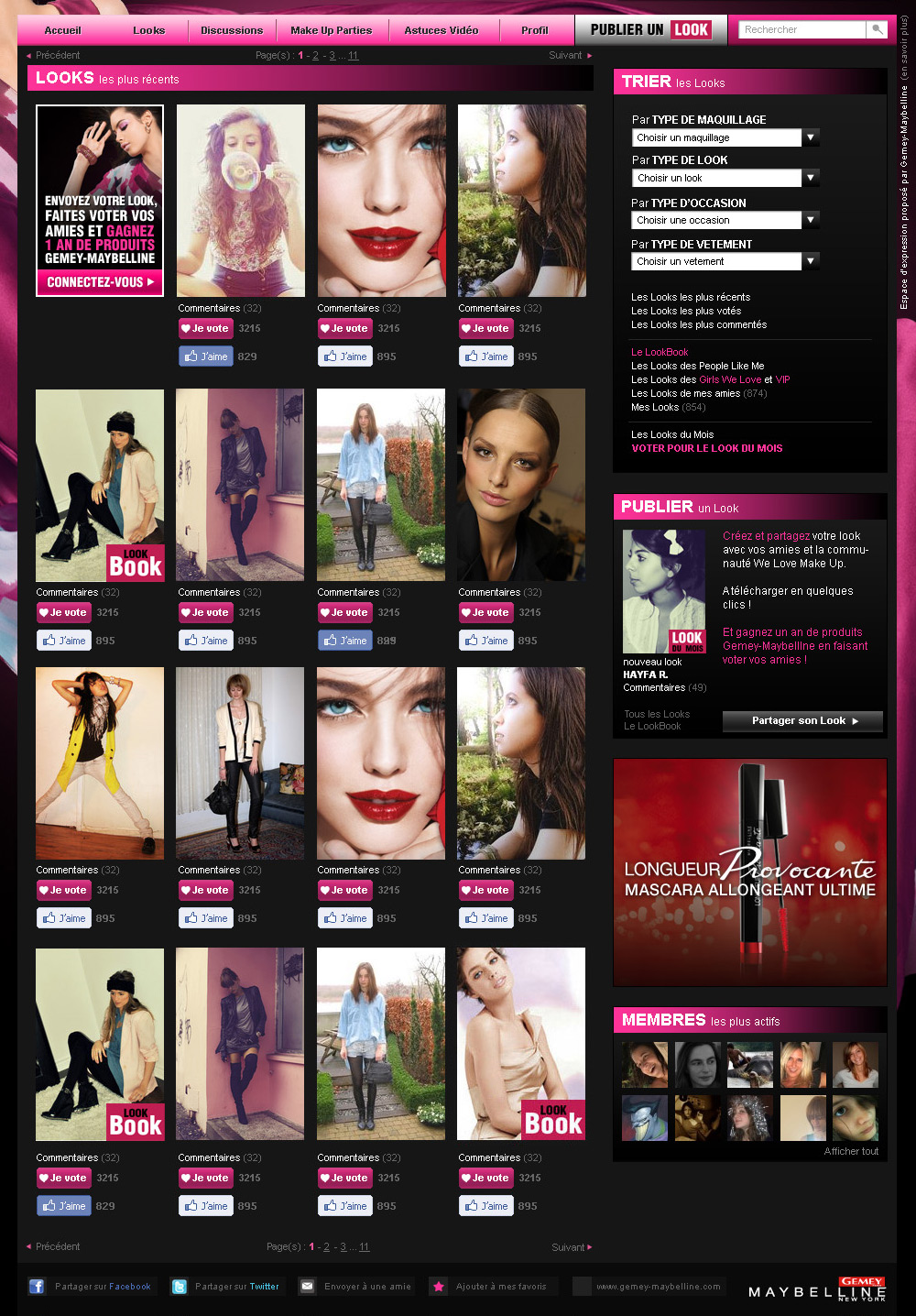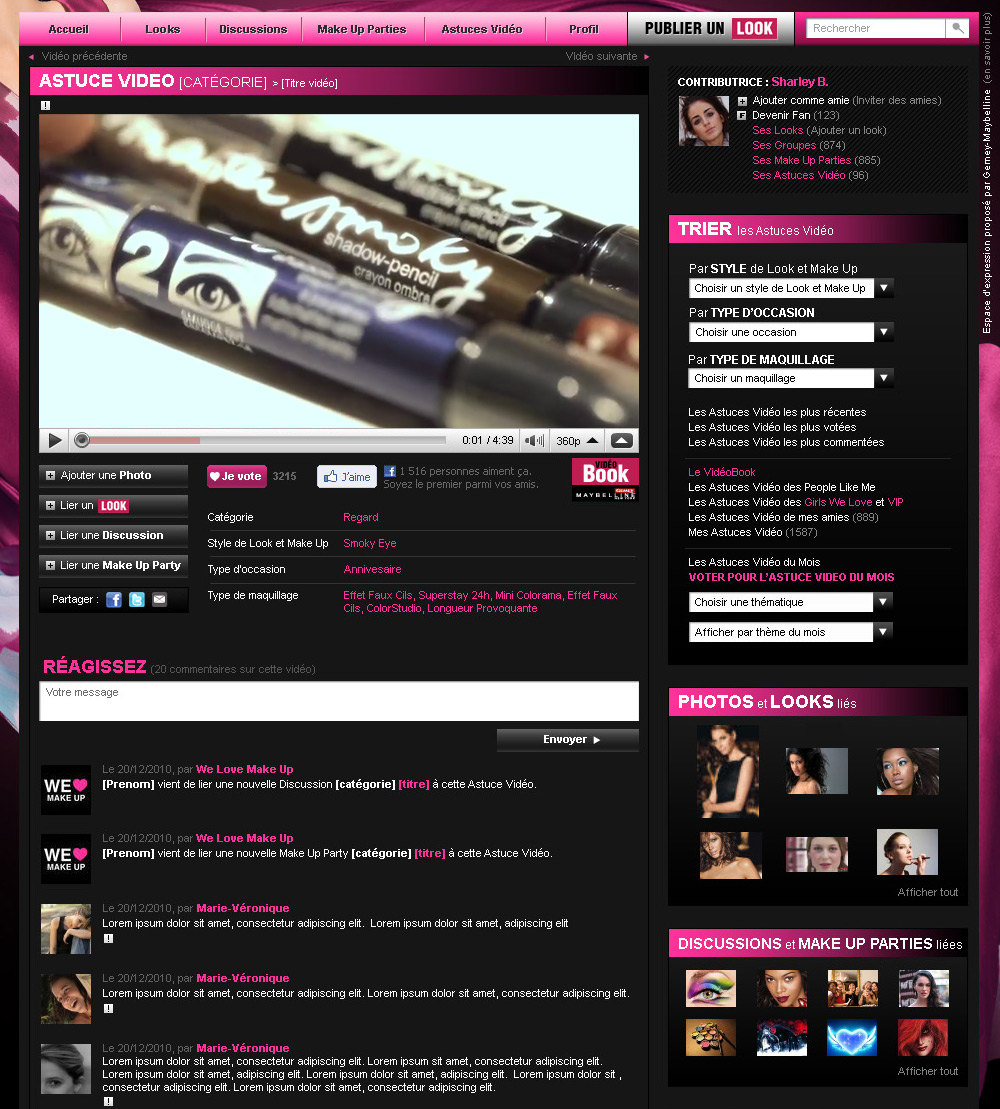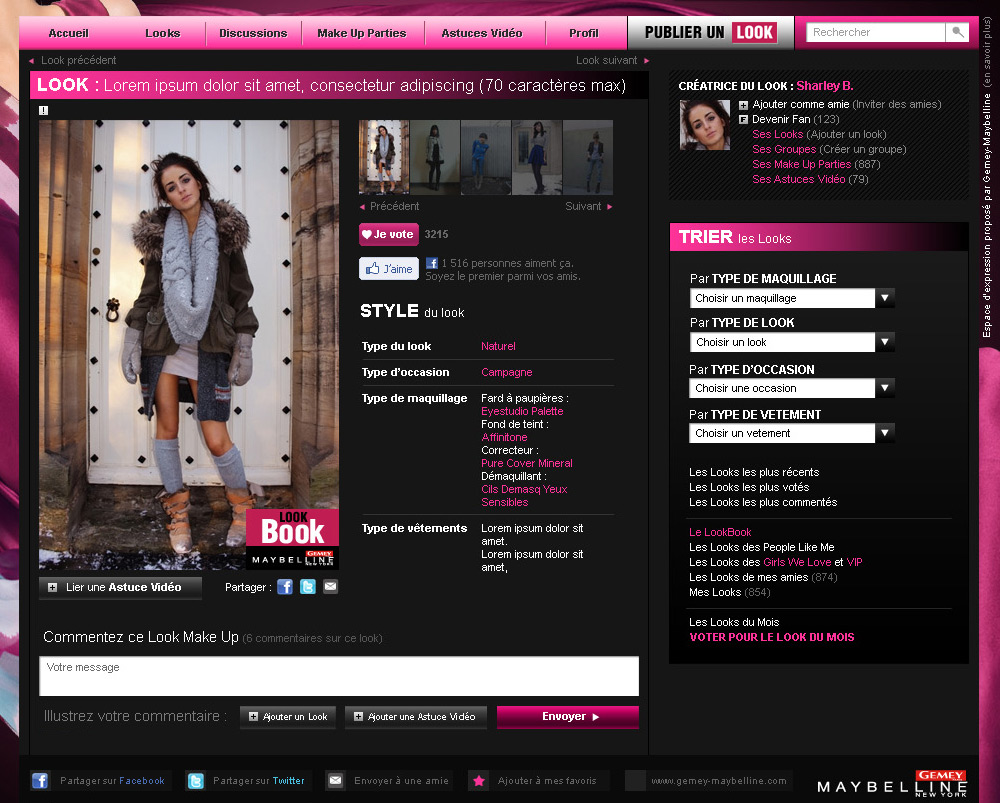 Welovemakeup.com is a sustainable social network including an online community of more than 28K "Make Up Addicts" sharing thousands of looks and discussion topics. It's a Facebook-like dedicated for makeup artists and beauty enthusiasts to connect, learn, share, and even have Make Up Parties.
Context | Facts and figures
Client : Maybelline New-York (L'Oréal Paris)
Agency : Mediagong | Leo Burnett
Project : We Love Make Up
Budget : by 300 to 500k€
Type of product : Community Platform, User Generated Content, Brand Content.
Medium : Website, Mobile Application, Newsletters, Ads campaign
Target : Teenagers and people interested by makeup.


Clients needs
Gemey-Maybelline wanted a new resources to enlarge her digital visibility and identify emergent make up trends. The client needed also a new channel of communication to introduce news products and brand contents.
The answer, the big picture
Firstly, Gemey-Maybelline has a very well-developed corporate image in France and a very great position in french market (Gemey-Maybelline cosmetics are best seller on french supermarket). Secondly, the target it young, and her digital behaviors are focused on social platform (as digital natives). A simple Facebook page was not efficient for this kind of brand. Gemey-Maybelline needed a full dedicated platform to catch new make up trends and to identify customer behaviors. So we had to design a original site, with a strong and simple idea around social medias. For all these reasons, we presented the "WLMU" project, first french community platform dedicated to personal sharing, around the make up world. A facebook-like website, dedicate to make up.
Strong points and Advantages
This website proposed two major advantages : first, it was a gap in the french market, no competitor brand has made this kind of proposal. Secondly, the empowerment of content creation it was definitely profitable for the client. Indeed, like Facebook, only the structure, the containing, was designed. Via the sharing system, users will be the only contributor (UGC, User Generated Content). They'll create the content day after day (video trends, personal photographs, forum) without additional costs for the client.
Workflow & Work patterns
Six positions worked on this project : Digital Strategic Planner, Sale Manager, Project Manager, Art Director, Graphic Designer and Front-End Web Developer. Sale department needed a reactive graphic proposals. Graphic designer needed to deal with declination and many client rectifications. Front-End Web Developer needed to have guidelines quality and streamline-oriented. Solved problems : the biggest challenge has been to face the deadline. Solution : development and delivery was separated in two parts.
My intervention / Skills developed
Global design (team working with Sales Department). This step include Information Hierarchy, Benchmarking and Functional guidelines. Information Hierarchy define information organization. Benchmarking define all models could be relevant. Functional Guidelines define interactive mechanisms.
Art direction & Lean production. I was responsible for graphic trends definition, interface designing (home page and all index categories), most important declinations (newsletter, ads campaign), streamline definition and final product quality.


© Mediagong Leo Burnett / L'Oréal – Plateforme communautaire We Love Make Up. Co-conception et direction artistique : François Soulignac, 2011. Social Platform We Love Make Up. Co-design and Art Direction : François Soulignac, 2011.